1825 The oldest surviving photograph of a 'horse-drawn man' taken by 『Un cheval et son conducteur』.
1933 Wheatstone makes a Mirrored 3D viewing device. He then named it the stereoscope. The birth of STEREO.
1939 Daguerreotype
1949 Brewster stereoscopes and stereo cameras.
1951 Brewster's Stereoscope was displayed at the London World's Fair. The public response was overwhelming and Queen Victoria was enthusiastic.
1951 Collodion process
1853 Wilhelm Rollmann invented the anaglyph.
1859 安政6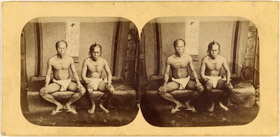 Japanese Workmen, in Summer Costume.1858–1859
At the end of the Edo period (1859-61), Swiss stereo-photographer Pierre Rossier came to Japan and stayed there, taking stereographs and panoramic photographs.
He came to Japan on behalf of Negretti and Zambra, a London-based optical equipment company that was publishing stereo cards, to both take photographs and conduct business.
He stayed in Nagasaki and taught wet photography to first generation Japanese photographers such as Ueno Hikoma.
Stereographs taken in Japan at this time were published by Negretti and Zambra in April 1860 as part of the 'View of Japan' series.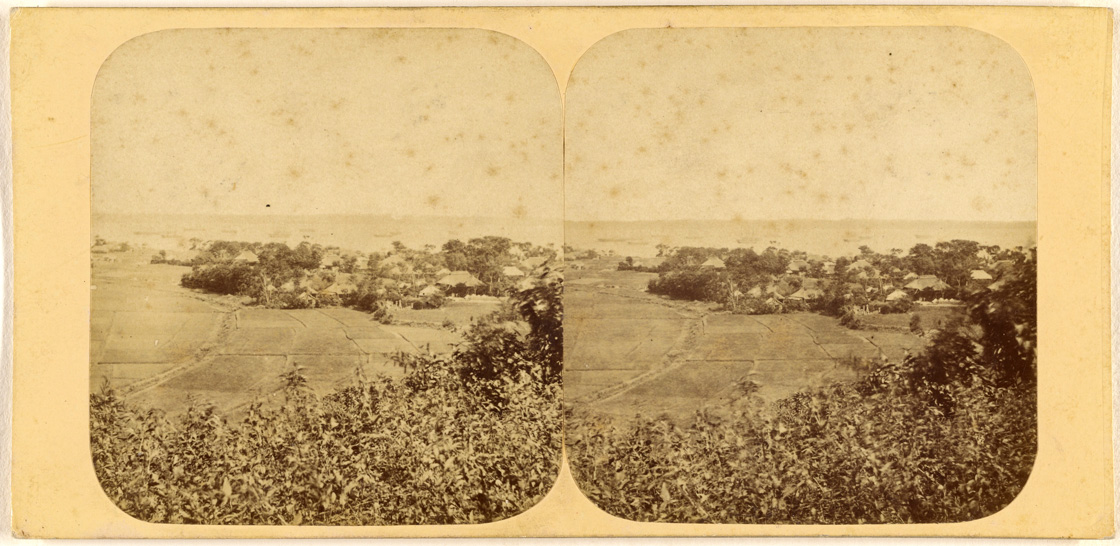 Yakuama. View of the New City of Yakuama,
with European Shipping in the Bay.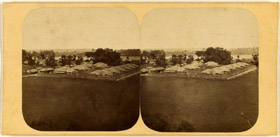 Yakuama. General View of Yakuama.
The earliest photograph of Yokohama was a stereograph by Pierre Rossier.
1861 Holmes-Bates stereoscope
1861 文久1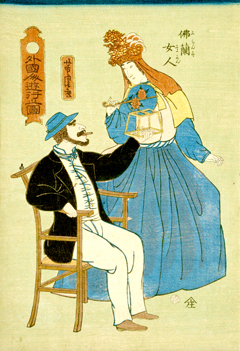 French Housewife and Her Husband
Ukiyoe artist Utagawa Yoshitora paints stereoscopes.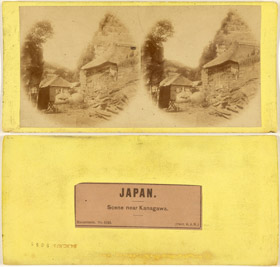 "Japan. Scene near Kanagawa." George A. Baader [G.A.B.5525]
Shimooka Renjo and the Mystery G.A.B StereoviewSeries by Terry Bennett & Rob Oechsle

Mystery: "Renjo Shimooka may have been the first person in Japan to take stereographs."
1862 文久2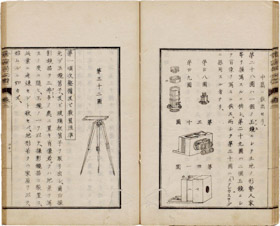 Chemistry Bureau Essentials 
Volume 3: Appendix "Photographic Techniques"
Ueno Hikoma published a chemistry book, "Chemistry Bureau Essentials".

Volume 3: Appendix "Photographic Techniques" was a manual for wet-plate photography and included a stereo camera. This was the first time a stereo camera was published in a book in Japan.
1869 明治2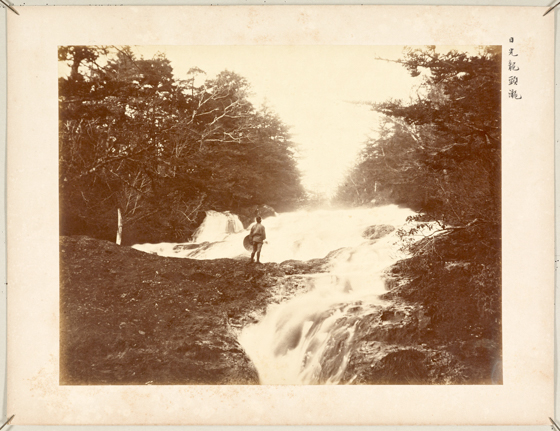 Photo by Yokoyama Matsusaburo
Nikko Ryuzutaki Waterfall (print right of stereo photo)
Source: ColBase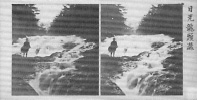 Nikko Ryuzutaki Waterfall
Collection of Hakodate City Museum
In 1869, the oldest surviving stereo photograph taken by a Japanese was taken in Nikko by Yokoyama Matsusaburo.

"Yokoyama Matsusaburo took photographs of all the mountains of Nikko with his pupils and ten labourers, and introduced the waterfalls and other scenic spots in the mountains through photographs. It also took stereo-photographs of waterfalls and scenic spots in all the mountains of Nikko.
These photographs of Nikko were taken by Yokoyama Shozaburo and Shimooka Renjo and are said to have been presented to the Tokugawa family."
(Hajime Chiyo, 'Biography of Yokoyama Matsusaburo, a forerunner in Western painting and photography, and from the collection of the Hakodate City Museum)
1871 Dry plate photography
1885 Roll film for photography introduced by Kodak
1895 Lumière brothers show films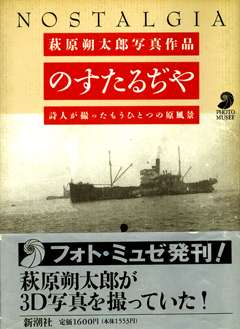 NOSTALGIA
Hagiwara Sakutaro, one of Japan's most celebrated poets, began taking stereographs at the age of 17.

"Anyway, for me, this stereoscope was the one and only good companion. And there is an inevitable reason for this for myself." (From Hagiwara Sakutaro's "My Camera")

"From his junior high school days until his later years, he looked through stereo photographs (he also looked through ready-made foreign-made photographs), and even before his death, when he was lying on his sickbed, he kept it by his bedside." (From Hagiwara Yoko, "NOSTALGIA")
Around this time, stereo photography enthusiasts were born in Japan.
1905 明治38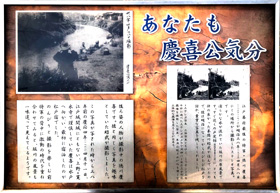 You too can feel like Shogun Yoshinobu Tokugawa
The last shogun, Tokugawa Yoshinobu, took stereo photographs in Matsudo, Chiba, Japan.
)1915 3d film was tested at the Astor Theatre in New York (Anaglyph)
1923 大正12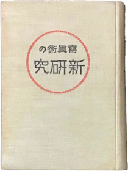 New Studies in the Art of Photography
Stereo Photography Club of Japan (日本双眼寫眞會) founded.

The first stereo club in Japan, founded by Yoshikawa Hayao, the first stereo photography evangelist in Japan.

"It should also be noted that the author has established the Stereo Photography Club of Japan with the aim of researching and popularising this art of photography.

In other words, in addition to researching the art of photography, the club will organise exhibitions and competitions, and select materials and prepare them on an unspecified basis for the benefit of photography researchers."

(From Yoshikawa Hayao, New Studies in the Art of Photography, 1923)
1930 昭和5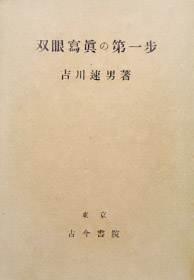 First Steps in Stereo Photography
An introduction to stereo photography, 'First Steps in Stereo Photography', by Yoshikawa Hayao, is first published.
1934 Leica launches Stereoly
1936 昭和11
Audioscopiks, the first 3D film to be screened in cinemas in Japan, was released. 
1938 昭和13
TAKARAZUKA REVUE's Star Troupe performed a shadowgraph show performance. Audience members wearing anaglyph glasses enjoyed seeing the red and blue anaglyph shadows of the dancers in three dimensions.
1939 Launch of the Verascope F40 (France)

1947 Launch of the Stereo Realist (USA)

1952-1954 3D films in the USA 'Golden Age' (polarised light)
1953 昭和28
The first domestically produced 3D films were released. Two short films, Pop-out Sunday and I Am Aimed at, were produced by Toho. 
1955 昭和30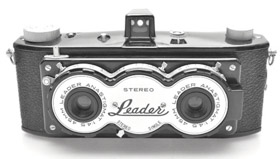 STEREO LEADER
The 35 mm stereo camera Stereo Leader was released by TogoDo.
1957 昭和32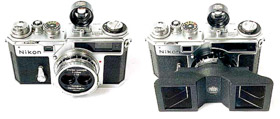 Stereo-NIKKOR 35mm F3.5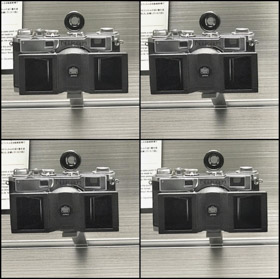 On display at the Nikon Museum in Shinagawa, Tokyo.
Nikon launched the Stereo NIKKOR 3.5cm f/3.5.
During the stereo boom of the 1950s, many stereo cameras were launched. This Nikon lens was also produced during that period, but as it was a late starter and was released at the end of the boom, it did not sell well and production ended after a short period.

Only about 100-200 of these lenses were produced, and they are now sold at high prices as collectors' items.
1964 昭和39
Asahi Kogaku launches Stereo adapter for Asahi Pentax SP.
1975 昭和50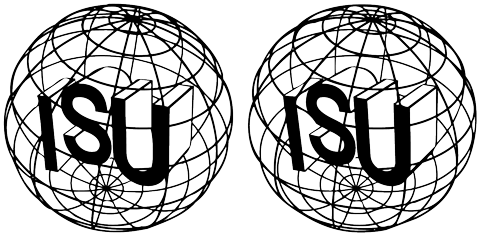 The International Stereoscopic Union is founded.
1977 昭和52
The 3D animation Nobody's Boy: Remi (51 episodes) was broadcast using the Pulfrich effect.
1979 昭和54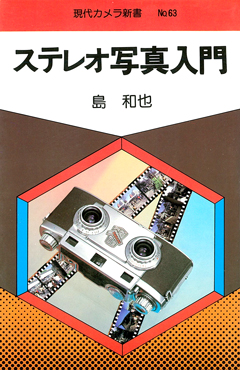 Introduction to Stereo Photography
Shima Kazuya's "Introduction to Stereo Photography (ステレオ写真入門)", a must-have classic, is published.


Shima Kazuya is the grandson of Yoshikawa Hayao, president of the Stereo Club, active in the 1950s, and at the time of this book's publication active in the Japan Amateur Stereo Photography Association (JASPA).
1985 昭和60
Expo 85 was held in Tsukuba, Japan. The Hitachi Group Pavilion, the Sumitomo Pavilion and the Steel Pavilion screened 3D films using the polarisation method. In addition, the Fujitsu Pavilion in the 3D Dome screened 3D films using the anaglyph method. 3D films were screened on large screens at each of the pavilions.
The screening of stereoscopic images was a major topic of discussion and was also known as the Expo of Image Technology, another name for the event.
Tsukuba has since become known as a sacred place for stereo-otaku.
1987 昭和62
Captain EO unveiled at Tokyo Disneyland.
1992 平成4
Random-dot stereograms were introduced from the USA and became a big boom in Japan. Free-viewing (naked-eye stereopsis) attracted attention.

"C.G. (Computer Graphics) Stereograms - Amazing 3D", published by Shogakukan, became a bestseller and numerous stereo-related books were published.
1993 平成5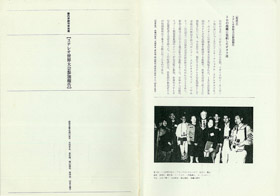 First issue of the magazine Brain World, separate volume
[Report on participation in the Stereo World Congress].
Six members - Akasegawa Genpei, Ota Takayuki, Takasugi Dan, Tokuyama Masaki, Miami Shinbo, Yamamoto Chieko and members of the Brain Resort Development Project/Stereo Otaku Society - attended the '9th ISU 1993 World Congress' in Eastbourne, UK, for the entire day.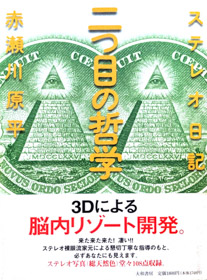 The Philosophy of Two Eyes
Genpei Akasegawa, Stereo Diary: The Philosophy of Two Eyes, published.
1994 平成6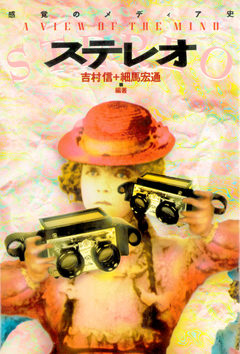 STEREO
STEREO: A Media History of the Senses (ステレオ-感覚のメディア史), by Yoshimura Makoto + Hosoma Hiromichi , published.
1995 平成7
A multimedia CD-ROM entitled 'Perspective Technique: Aramata Hiroshi's Bizarre Perspective by CD-ROM'(遠近術), produced by the team P-Media, consisting of Mimura Chie,Gozawa Akihide and Okano Izumi, has been published.

QuickTime VR compatible. Contains a stereogram creation function and 3D images.
1996 平成8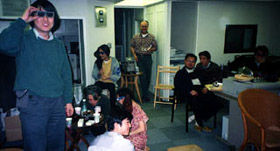 1st STEREO CLUB Tokyo Regular meeting <Winter>
STEREO CLUB Tokyo launched.
1999 平成11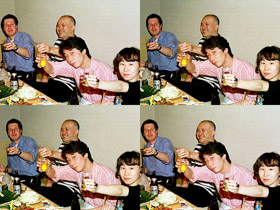 Alexander Klein came to the STEREOCLUBTokyo.
STEREO CLUB Tokyo Meeting <Special> [Meeting with Alexander Klein] 22 May 1999 (Fri)

Alexander Klein came to STEREO CLUB Tokyo, the first meeting The first meeting between the ISU and STEREO CLUB Tokyo.
2000 平成12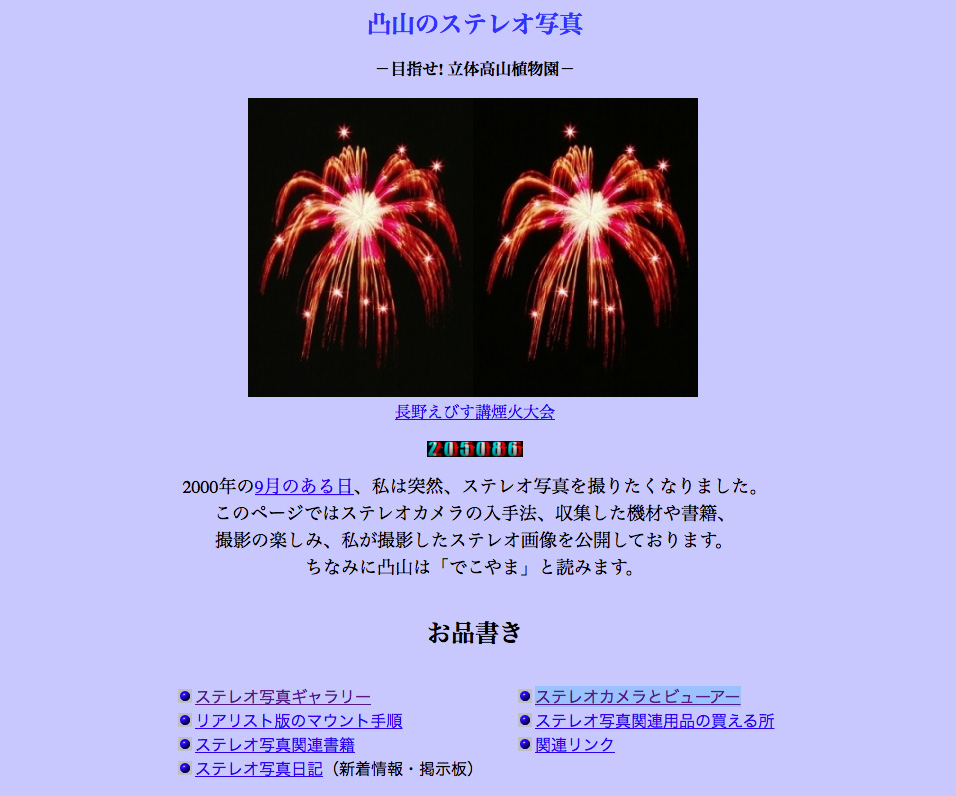 Stereo Photography of Dekoyama -- Refresh Your Brain
Yuda Akio's website, Stereo Photography of Dekoyama (Convex Mountains) -- Refresh Your Brain, has been launched.

As of January 2023, the website contains a huge number of stereo photographs of wildflowers, alpine plants and landscapes, mainly in the Shinshu region of about 16,000 pairs.

Other "Books on Stereo Photography", "Stereo Cameras and Viewers", etc.
2002 平成14
The first year of digital STEREO

Suto Masuji releases 'Stereo Photo Maker'.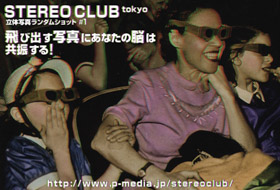 Stereo Photo Random Shot #1:
Your Brain Resonates with the Popping Photo! Exhibition
STEREO CLUB Tokyo organises Stereo Photo Random Shot #1: Your Brain Resonates with the Popping Photo! Exhibition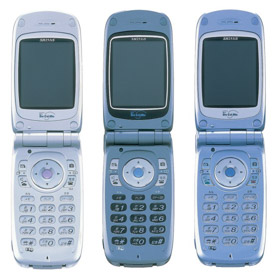 SH251iS
World's first 3D mobile phone, SH251iS, launched.

Equipped with 3D LCD and 2D-3D conversion function.

Stereo Club Tokyo provided 3D demonstration images.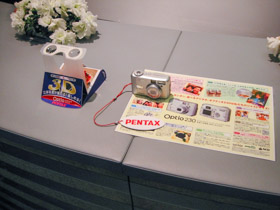 Pentax Optio 230
Pentax Optio 230

World's first digital camera with stereo photo creation function.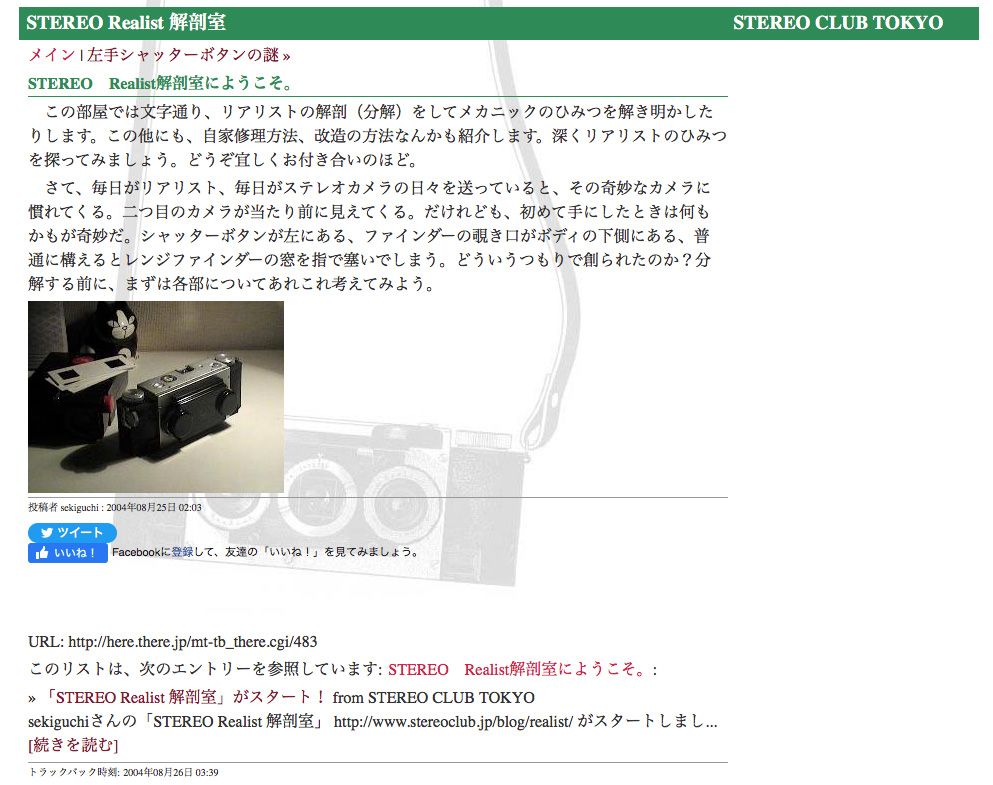 STEREO Realist Anatomy Room
sekiguchi's Blog 'STEREO Realist Anatomy Room'(STEREO Realist 解剖室) is launched.
2006 平成18
3D‐TOKYO
Publication of 3D-TOKYO, a collection of stereo photographs by Sekitani Takashi.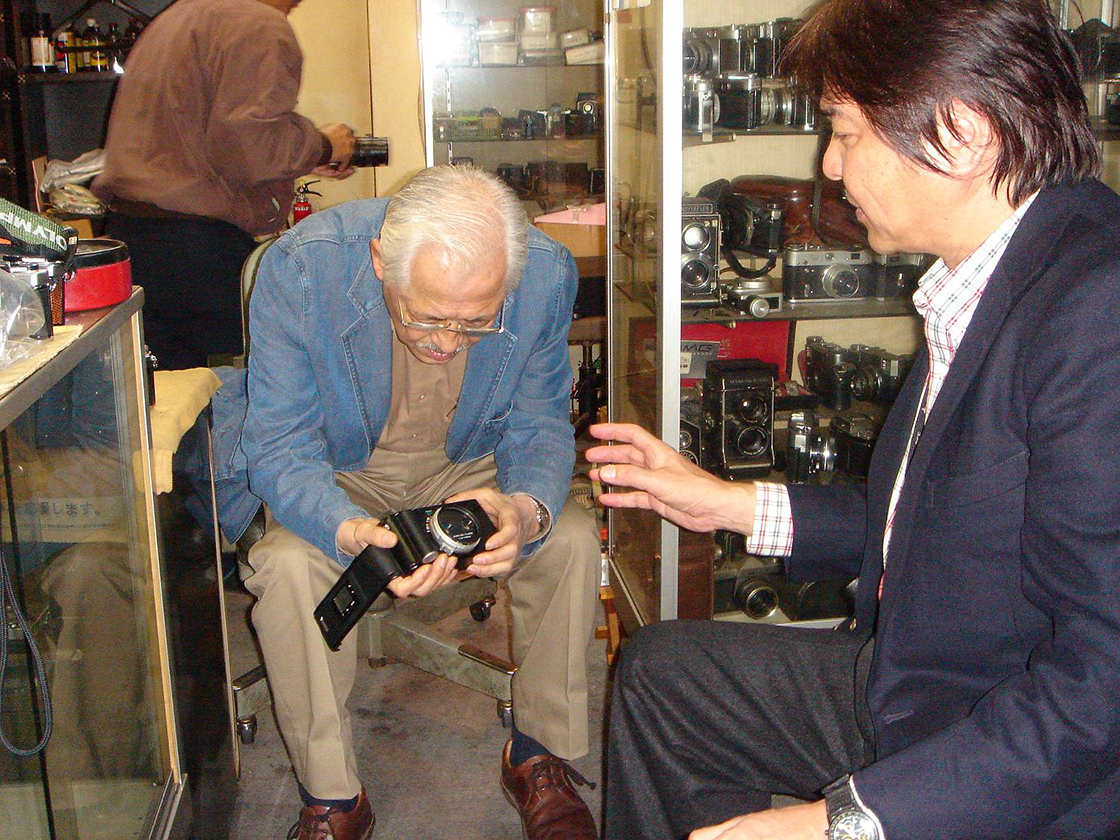 Yamaguchi Jin (foreground) and Mr Naoi of Naoi Camera Service.
Horseman 3D, almost the last film photography Western stereo camera, was released by Horseman. Product produced by Yamaguchi Jin of the Horseman company.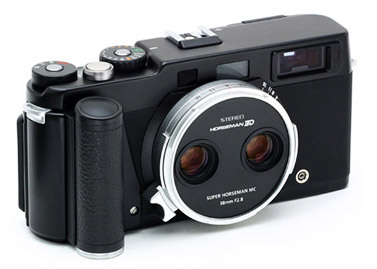 Horseman 3D
Japan's top idol group SMAP performed nationwide with their Pop Up! SMAP LIVE! Tour, which incorporated 3D images into the show.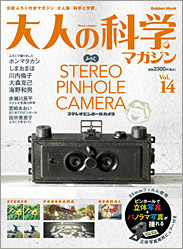 Otona no Kagaku Vol 14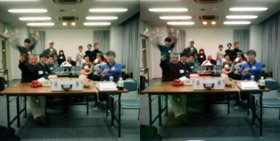 Group photograph of the 31st STEREOCLUBTokyo meeting
taken with a stereo pinhole camera
Otona no Kagaku Vol 14 Stereo Pinhole Camera (Gakken) published.
2008 平成20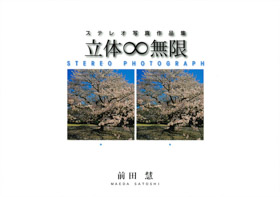 3D ∞ Infinity
Maeda Satoshi's Stereo Photography Collection Stereo Photography Works: 3D ∞ Infinity (ステレオ写真作品集 立体∞無限) published.

A collection of stereo photographs taken with a Hasselblad in scenic areas around the world.
2009 平成21
FinePix REAL 3D W1 launched by Fujifilm.
2011 平成23
Launch of the Nintendo 3DS.
Portable games console with stereo camera and glasses-free display; 75.87 million units shipped worldwide by the end of sales in 2020. Most popular 3D device in history.

Suto Masuji releases i3DSteroid.
Stereo life on smartphones begins.
2012 平成24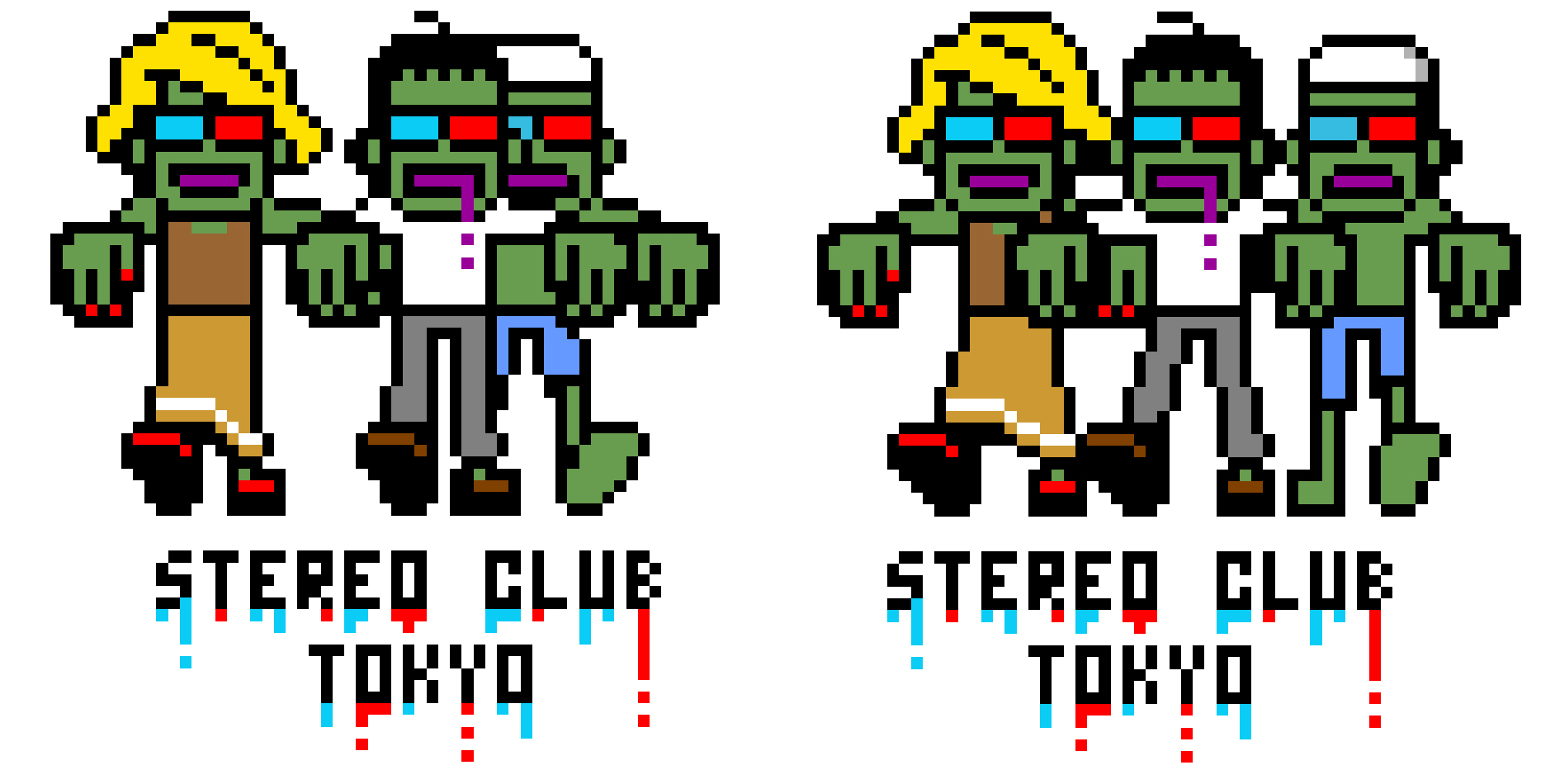 ©STEREO Monters, Sachi-ika
New logo for STEREO CLUB Tokyo created by Sachi Empty Ika of STEREO MONSTERS unveiled.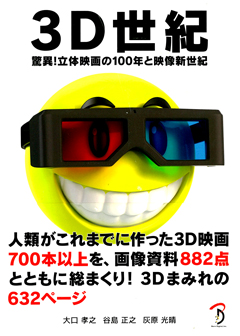 The 3D Century
The 3D Century: Wonders! 100 Years of Stereoscopic Imaging and the New Century of Imaging by Ooguchi Takayuki, et al. is published, a major work unparalleled in the world that covers the entire spectrum of 3D cinema.
2013 平成25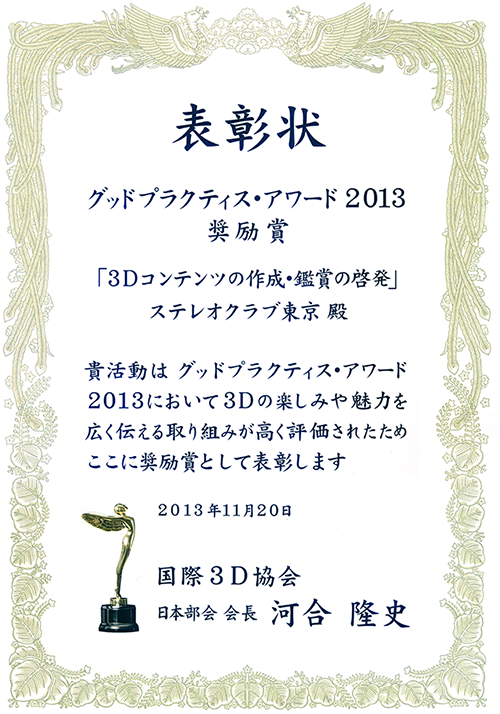 表彰状
STEREO CLUB Tokyo won the International 3D Society Good Practice Award 2013 - Incentive Award .
2015 平成27
Suto Masuji's Stereo Photo Maker won The Royal Photographic Society Saxby Award.
2017 平成29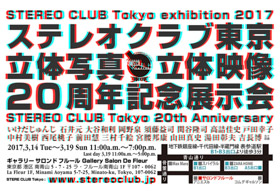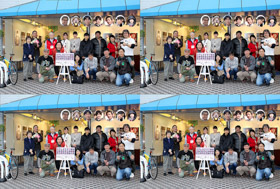 Group photo of participating members
Exhibition STEREO CLUB Tokyo: 20th Anniversary Exhibition of 3D Photography and 3D Imaging.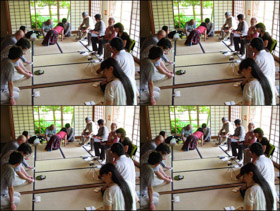 etiquette of tea-ceremony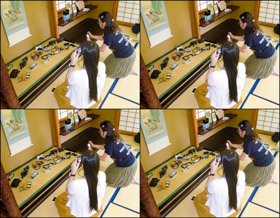 Various stereo cameras lined up in an alcove.
StereoTea - Helplessness Spring in my head

ステレオ茶会 無力本願 頭に春が

A stereo tea party was held with stereo legends Susan Pinsky and David Starkman.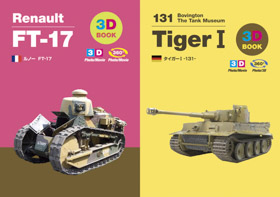 Renault FT-17 3D BOOK and Tiger I -131- 3D BOOK
Publication of Renault FT-17 3D BOOK, a collection of stereo photographs by Nakamura Miki; in 2019, Tiger I -131- 3D BOOK.
2018 平成30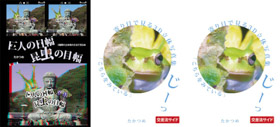 Giant's Eyes, Insect's Eyes
and Looking at You - 3D Stereoscopic Photography Collection
Takatsume's stereo photo collections Giant's Eyes, Insect's Eyes and Looking at You - 3D Stereoscopic Photography Collection were published.

[JP]Giant's Eyes, Insect's Eyes | Amazon

[JP]Looking at You - 3D Stereoscopic Photography Collection | Amazon
2019 令和1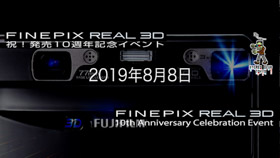 Celebrating the tenth anniversary of the FinePix Real3D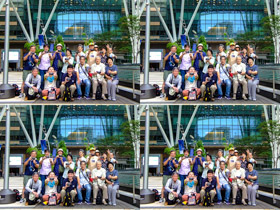 Group photo of participating members
Celebrating the tenth anniversary of the FinePix Real3D
2022 令和4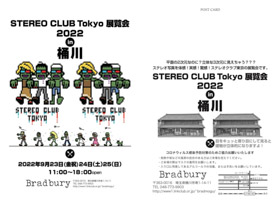 STEREO CLUB Tokyo Exhibition 2022 in Okegawa
STEREO CLUB Tokyo Exhibition 2022 in Okegawa
2023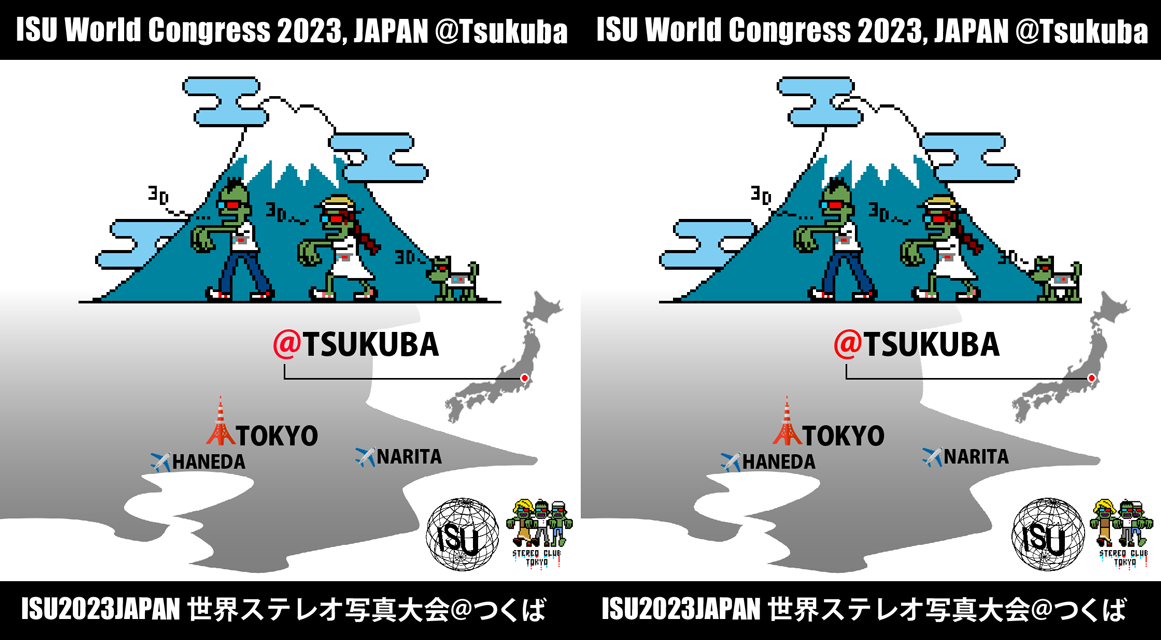 24th ISU World Congress 2023, JAPAN@Tsukuba
24th ISU World Congress 2023, JAPAN@Tsukuba